[acid-jazz] tonight: BOTANICA @ Star Shoes
From: Lars Behrenroth / BOC Productions (lars_at_housesound.com)
Date: 2004-09-08 01:27:58
Next message:
Chemikangelo: "[acid-jazz] Clubbity.com - late summer news -"
---
In case you donšt know what to do tonight.
Grab a few of your friends and come out to BOTANICA.



BOTANICA tuesdays ­ September, 7th 2004:

This Tuesday it's back to the resident DJs WAYNE LYONS & LARS
BEHRENROTH.

Early arrival suggested to experience how classic R&B and Disco turn into
soulful Deep House
and to enjoy our BOTANICA drink special ŒPOISON IVYš for $5 (from 9pm ­
11pm)

BOTANICA is happening at Star Shoes ­ 6364 Hollywood Blvd. (between
Cahuenga & Ivar)
9pm ­ 2am / 21+ / no dresscode and as always 100% F R E E

View pictures of the last BOTANICA nights @
<http://www.deepershades.net/botanica/>
Please check out the flyer gallery with all the past BOTANICA flyers
designed by Kathy Behrenroth.
Downloadable DJ-mixes by Wayne & Lars coming soon.

Planting Pure Organic Sounds for the Soul

---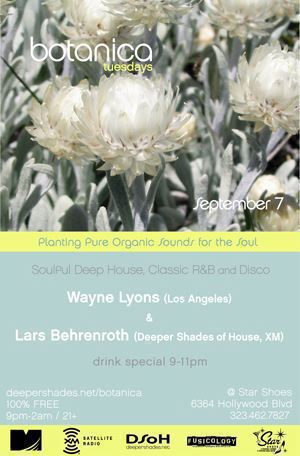 ---