[acid-jazz] SBL Founders Form Oversoul7, Join Tollman Mgmt.
From: Rick Torres (sblrocks@pacbell.net)
Date: Tue Aug 13 2002 - 06:47:38 CEST

Next message: David Bassin: "[acid-jazz] FreeFall #108 - Tuesday 10pm PT"
---
Following the success of Supreme Beings of Leisure, the team of Rick Torres
and Kiran Shahani have announced that they have formed a new Production
Company, Oversoul7. "We're incredibly excited about Oversoul7, the recently
completed projects we have in the pipeline, as well as the phenomenal
opportunities that have opened up for us on Madison Ave. It's a truly
exciting time for us" stated Rick and Kiran. The songwriting/production team
are now being represented by Gerry Tolman at Management Network, Inc.
To obtain a discography and reel, Gerry Tolman can be reached at
(818) 783-0707.

---
---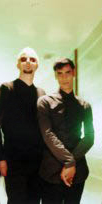 ---
---
This archive was generated by hypermail 2b30 : Tue Aug 13 2002 - 06:48:04 CEST