[acid-jazz] Misbehaving on my Birthday - July 4th in Greenpoint, Brooklyn
From: DJQoolMarv_at_aol.com
Date: 2003-07-03 10:25:51
Next message:
Max: "[acid-jazz] REQUEST: North Sea Jazz Festival 3-days ticket..."
---
Friday Night July 4th at the Martinez Gallery

Qool DJ Marv and DJ Misbehavior get stupid fresh with party classics from
the turntables in the park block party era until to some of today's blink
blink and you miss them hits.  It's all about the feel good party vibe so we'll
be easy on the heavy (thugged out) stuff and heavy on the fun stuff.  Here are
some records that I'm packing:

Keith Sweat - I Want Her
Micheal Jackson - PYT
A Tribe Called Quest - Award Tour
Shabba Ranks - Ting-A-Ling-A-Ling
Mary J. Blige - Real Love
Lisa Lisa & Cult Jam - Let The Beat Hit 'Em
Junior - Mama Used To Say
Skee-Lo - I Wish
Stevie Wonder - I Wish
Raze - Break For Love
Lil Louis - French Kiss
Jazzy Jeff & The Fresh Prince - Summertime
Raphael Saadiq & Q-Tip - Get Involved
A Tribe Called Quest - Scenario

And oh yeah, July 4th is my birthday so if USA all day isn't your thing to
revel in, come celebrate my 30 somethingish birthday with me. 

Friday, July 4th 2003
10pm (or after the fireworks) until 3am
21+
No Cover before midnight

@ Martinez Gallery
37 Greenpoint Avenue, Brooklyn, NY
See map and check website for info about the gallery
(Check the proximity of Martinez Gallery to the East River, 1 block - great
spot to see the fireworks)

[Unable to display image]
[Unable to display image]

---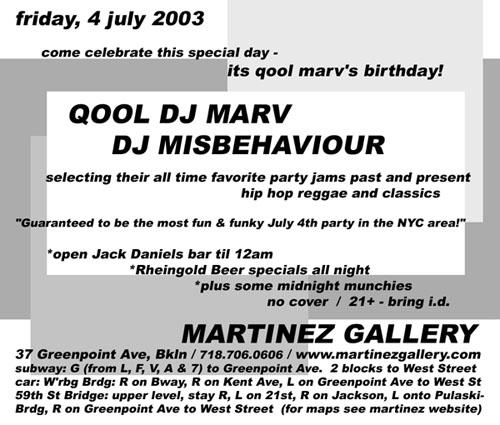 ---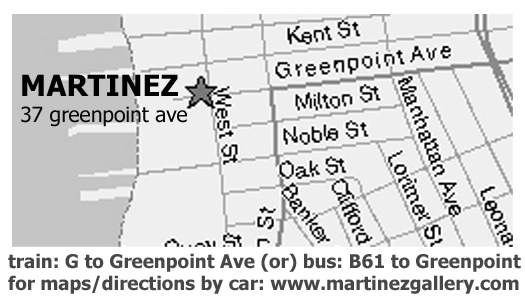 ---