[acid-jazz] SAT, SEPT 4 - Afrokinetic presents RING THE ALARM
From: afrokinetic (info_at_afrokinetic.com)
Date: 2004-09-01 19:57:52
Next message:
J-Justice: "[acid-jazz] SunTzu Radio: New Show Online 09.01.04"
---
afrokinetic
presents

RING THE ALARM
A VOTER REGISTRATION EVENT

Saturday, SEPT 4
Rock the Vote and Afrokinetic join forces to help get NYC registered to vote
for the 2004 presidential election. This election is CRUCIAL as you all
know. Show your support for change by being prepared to cast your vote.

djs
Chris Annibell aka Osiris
+ special guest Rich Medina

drums
Jimmy Lopez

::::playing songs of freedom, protest, and revolution::::

@ THE ROYALE
506 5th Ave
b/t 12 + 13 ST
ParkSlope, Brooklyn

F to 4th Ave
R to 9th ST

GIVE AWAYS

- FREE Pints of Sam Adams on Tap from 10pm - 11:30pm, $3 pints after. This
is sure to go fast so come and get down early!

- First 20 people to register receive free promo give aways including XLR8R
mags, mix CD's, and SOUL REBEL T-Shirts

THANKS TO ALL OF OUR SPONSORS FOR THEIR SUPPORT!!  

XLR8R Magazine - xlr8r.com
Soul Rebel Apparel - soulrebel.com
Samuel Adams Brewery - samadams.com
Rock the Vote - rockthevote.com
Multipod Design of Brooklyn - mutlipod.com

-----------
for more info go to
http://www.afrokinetic.com

Any one definitely attending this Saturday interested in volunteering to
register people to vote please contact me (Chris) at 917.345.5884.
Thanks,

C

---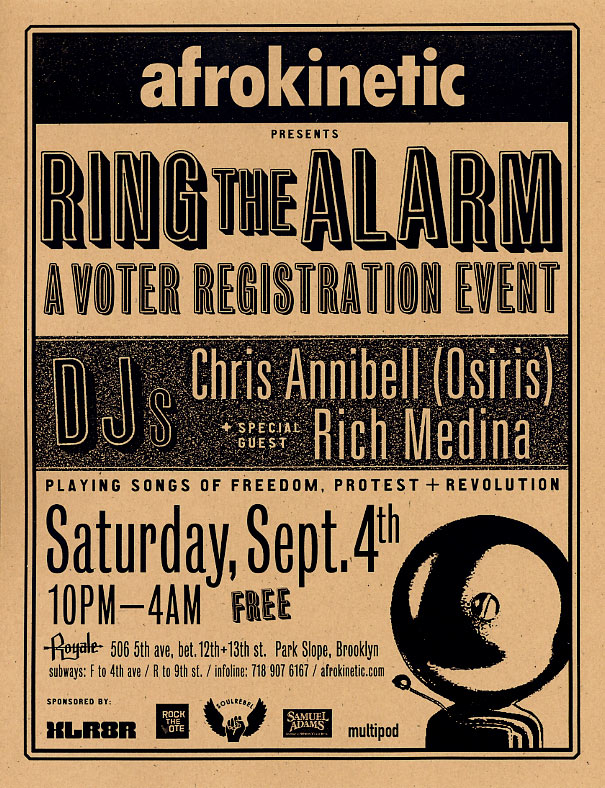 ---