Next message:
Jason Palma: "[acid-jazz] Higher Ground Playlist September 16th 2004"
---
afrokinetic

Saturday, SEPT 25
LAST DANCE in Brooklyn @ the Royale
Friends + family, please join us for AFROKINETIC'S last Brooklyn party
before the big move to the East Village next week, this October. Many
thanks for your continued support, and for making the Brooklyn parties such
a success. Special thanks to Joe, Brendan + all the staff at the Royale for
welcoming us into there home, and in the end supporting our move.

DJs
Chris Annibell aka Osiris
+ special guest DJ Jason Douglas (little j)

DRUMS
Jimmy Lopez

@ THE ROYALE
506 5th AVE, b/t 12 + 13 ST
Park Slope, Brooklyn

doors: 10pm - 4am
cover: FREE

trains:
F to 4th AVE
R to 9th ST

------------------------------------------------------------------------

Starting in October at
STAR FOODS in Manhattan:

Afrokinetic is relocating its weekly Saturday sessions to a larger venue
downtown NYC... with more space to dance, lounge, and all the rest, we look
forward to vibing at our new, more comfortable home. Join us opening night
October 2.

NYC - Saturday, OCT 2
OPENING NIGHT at STAR FOODS

DJs
Chris Annibell aka Osiris
+ special guest DJ Cato (tigerstyle productions) rocking rare latin jems.

DRUMS
Jimmy Lopez

@ STAR FOODS
64 1st ST, b/t 1st + 2nd AVE
NY, NY

doors: 11:30pm - 4am
cover: $7, $5 with flyer or email to
redux_at_afrokinetic.com

trains:
F to 2nd AVE @ Houston

-----------

---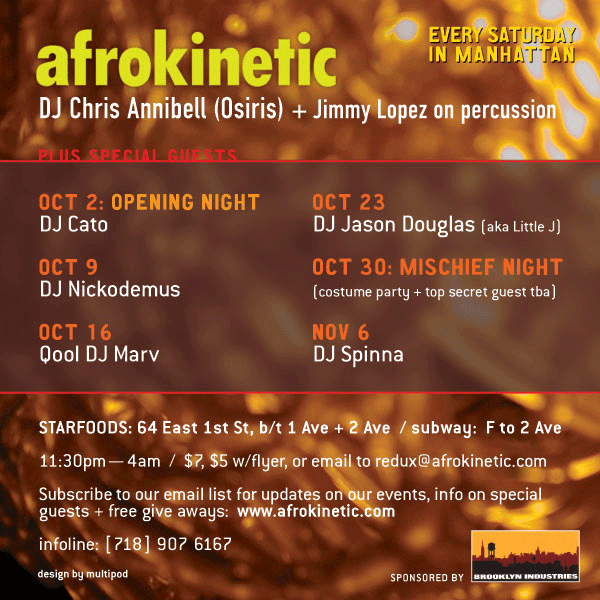 ---